System Summary
The key to finding a solution is to look for a product that fits your business and provides the tools you need to track your business. Does the manufacturing process mirror yours? Does the inventory and parts process follow your needs? Will it grow with your business? Can you be up and running quickly? Will your employees use it?
e-Insight ERP is that product for manufacturers in metal industries - the industrial fastener manufacturer, stamping, coating and other industries that take a raw material on a coil or roll and create products or other manufacturer that requires similar product tracking. It is built for your business processes, not generalized for job shops, or a generic application that then must have massive customization completed to make it work for you.
System Features:
The e-Insight ERP application uses a very flexible database environment.
The system is very scaleable and stable.
e-Insight ERP can start as a 'small' system of 5 users, and can scale up as your business grows.
You can add incremental users in groups of 1, 3 or 5.
You can start with the core e-Insight ERP system and add features as your business requires the functionality – you do not need to over buy now in order to get the features you need 1, 2, 4, 6 or more years from now.
You can customize the system quickly to fit your processes.
You are not limited by the system.
You get the benefits of a 'packaged' application, but also retain the ability to modify, improve and extend the application for your business.
You can 'build' your system based on your business rules.
The future of applications is to provide a core system that you as business owners can modify for your business. e-Insight ERP provides this capability at significantly less cost than other systems.
Reporting:
Reporting will always be an issue with any application. No one can ever know with certainty how, when and what format you want to see your data. The system has many pre-defined reports. There is also the ability to design, create and add to menus any number of custom reports for your unique management requirements.
If your organization prefers to use Crystal Reports, we have an ODBC option to allow you to use your favorite reporting tool to create your own reports. Additionally, your data can be shared with Excel and Word via a DDE connection, or your data can be export via standard XML format for use by vendors and customers.
Key Features

There are over 150 standard reports in the system.
More are added regularly.
Reports initial go to screen for viewing prior to sending to printer.
Can be defaulted to print directly to system default printer.
A Development copy of the Reporting tool can be added as an extra cost option.
Administration: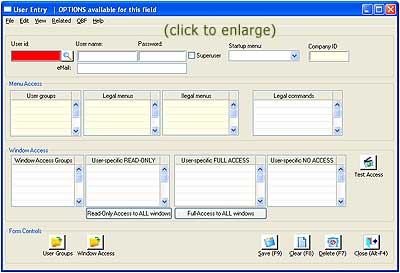 The ability to control who has access into which sections of the application is control via the Admin menus. Users and groups are setup by you in the way you wish to set up your system. The Admin area is also where up dates to the system can be applied when you need custom changes.
Key Features

Enter Users, Security and Menus from easy to use forms.
Passwords and access defined in these forms.
New Menus can be easily developed for departments and specific individuals.
Updates and Changes to the system are easily applied via our Update Utility form.
Users may not have to exit the system totally when this is run, depending on type of update.
Setup:
The ability to quickly and easily setup the system is important to begin realizing the benefits that are expected. The Setup process follows a menu. Start at the top and work down through the list sequentially. When you reach the bottom, the system will be setup and operational – all the tables will be configured with the base validation information for you business, the key counters will be setup and the system will know what the defaults are for operation.
Key Features

Easily setup the system via the INIT menu – has all the forms required in order to enter the base data to start using.
Company defaults, bank accounts, GL accounts, warehouse(s), units of measure, tax information, pay terms, salespeople, customer and vendor information, part classes, cost classes, start entering part via the part master, ship via types and receipt status codes.
All the forms exist on the normal processing menus, this INIT menu just places these in one place in the correct order to configure the system quickly to be up and running.
Other System Information:
Optional purchase of a development copy of the product in order to more readily implement updates and changes is available.
Multi-User capable – bump number of users in packs of 1, 3 or 5
Windows 2003/2008 Server/Windows XP Server environments supported currently, via TCP/IP protocol.
Linux support for Red Hat, Debian, SuSe and others.
Desktops supported are Windows XP Pro, Vista and Linux as above.
e-Insight ERP is a full 32-bit application and will act as middleware for most other products.
e-Commerce ready:
Business-to-Business e-Commerce is part of the capability of the application. However it requires an investment in local hardware, software and internet connectivity to properly setup the web servers and such to take advantage of the module.
Key Features

Customer/Vendor lookups
HTML, SHTML or Java Options
Requires a web server on site and running OpenInsight as well
You tell us what you want it to look like and we will make it happen
Spawn multiple engines to handle large requests
Web 2.0 and Ajax code
Works with IIS and Apache, as well as others for web servers
XML:
This is a data format to allow you to share data with many applications – be it for web access and reports, for customers or suppliers in your supply chain or for some of your other desktop productivity tools such as Excel and Word. We handle XML natively so that there is no additional purchase of XML databases, or new hardware to handle the overhead for converting your data to XML. We store the data in a format that works for our data engine and for XML – there is minimal data conversion required.
Key Features

XML is Native
XML and MultiValue are made for each other. XML is string manipulation. MultiValue is string manipulation. Hierarchical data in XML is our MultiValue strength.
XML Import/Export Utility – creates schemas and used to define new imports
Bring the data in as a string or parse into fields in the database.
e-Insight ERP will Integrate with other products
A key for any application in today's environment is the ability to share data across many other applications and system. We will work with almost any Windows-based application, will work with most networks and with most support programs. Below is just a small list of what e-Insight ERP will work with:
Bar Code Systems – printers and scanners

Independent of type of Bar Code Printer
Windows CE Wireless Bar Code Scanners
Design and Print Labels via Loftware Print Server
Print Locally or across the internet to other warehouse locations

Microsoft Office compatible for sharing data
Reporting can be enhanced via Crystal Reports and the ODBC driver
SmartBoL for Adi International for VICS standard Bill of Lading printing
PDA's such as Palm units can be used via customization process
Supply Chain integration – let us know what your vendors require, and we can make it happen quickly. All systems are different and you can not 'preprogram' the solution for every company.
Payroll – We can integrate with various payroll applications on the market, or work with you on developing the steps to enter your payroll from third party vendors such as ADP, Paychex, etc.
Shop Floor Data Collection – Real time collection of production information via Process Technologies Group's IMPAX system. This is a must for companies looking to six sigma initiatives.
RFID – support for this technology is in the works for receiving, shipping and inventory tracking initially.

Utilizes the Loftware RFID print options

EDI Interface with FrEDI from User Friendly Software

Import 850 Orders
Export 856 ASN's
Export 810 Invoices
Import 816, 824, 830, 852, 860, 864, 869, 870 plus 753 Ship Requests and 754 Routings

Web 2.0 and Ajax – New options to convert our forms for web use while keeping all the business logic intact
Please contact us for further information or a demo.
OpenInsight is a trademarked product of Revelation Software, Westwood, NJ
e-Insight ERP licensed from InsiTech Group LLC. Cheshire, CT.