Inventory/Parts
Parts for your business are easily assigned and configured. The pricing can be set for the part or by customer using the customer pricing form providing quantity price breaks. Standard and secondary units of measure are assigned on a part by part basis. Part Id's can be alpha-numeric or segmented.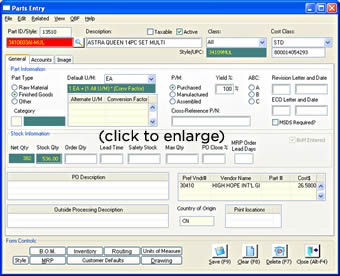 Raw material items are easily entered including the current cost per unit of measure that is assigned and any discount price that is possible. The part can have lead times, safety stock and max quantities assigned so that you may check results against these standards.
Access to related parts of the system are button clicks away – including Bill of Materials, Inventory Transactions, Routing, MRP, and Product Drawings if you store those images on a network and you have access to the programs.
The Warehousing options provides for forms to receive and to ship products quickly. Receipts are compared to the Purchase Orders to validate that the proper items and quantities are received. Shipments are keyed to the Sales Orders and ship schedules. Each will automatically update the inventory quantities so your detail stays current and accurate.
Key Features:
Every Part assigned to a Class or Group for easy reference
Every Part assigned to a Cost Class for Costing updates
Multiple Warehouses supported
Locations company-defined and assigned to a warehouse
Units of Measure very flexible – each/piece to thousands, cartons, pounds, kilograms – company can define and link together
Company-defined Inventory Transaction Reasons to standardize and group for reporting purposes
Part Type defined as Raw/Finished/Other to speed part lookups
Part has a default Unit of Measure and also allows for Alternate Unit of Measures
Flag Part as Purchased/Manufactured/Other
Track Revision Letters and Dates
Track ECO Letters and Dates
Track Stock information – Order Quantity, Lead Times, Safety Stock, Maximum Order Quantity
Enter Conversion Options – Pieces per Carton, Pounds per Thousand, Counts per Pound
Enter Preferred Vendors in Order
Enter Standard or Outside Processing Descriptions
Easily view Bill of Material, Routers, Units of Measure, MRP, Pricing and Drawings with simple mouse clicks
Parts also provide default GL Account assignments – Sales, Receiving, COGS, Inventory accounts and more
Enter Customers purchasing part and reference their part numbers so Sales Orders show your customer's correct part number.
View Transactions for part and history easily – warehouse, location, quantities in and out
Warehousing
Inbound Shipping Containers
Assign Unique Counter
Date Shipped, Expected Arrival and Actual Arrival
Track all PO's in the container
Track Carton Numbers if assigned
Enter actual Container Number
See PO Line Details
Order Qty vs. Shipped Qty vs. Receipt Qty
Number Carton and Case Pack Qty
Easily see Qty Differences
Receipt Number assigned to Container allows multiple container shipments to be received individually
Print Receipt Labels
Receiving Key Features
Straight forward receipts entry – system defaults receipt number and date
PO Lookup via popup list
Enter Receiving Lot numbers in this form
Enter receipt quantity – system compares to PO quantity for item
View PO with mouse click
Print Receipt list quickly
View On-Time Receipts compared to scheduled dates
Linked back to Container Record if required
Shipping Key Features
System assigns Shipment number and ship date
Easy entry of Freight Costs
Ship Via based on company defaults
Track number of cartons and weight
Ship Address defaults to Sales Order but can be overwritten on request
Quick entry of quantities from locations
Option to Invoice Shipment directly
View Sales Order Ship Schedule from Shipper
View On-Time Shipments compared to Scheduled Dates
Print Shipments quickly – individual or batch process
Period Inventory
Year End Inventory Processing, including physical tags, reports, and such.
Warehouse/Aisle/Rack/Shelf/Bin locations – multiple warehouse ready
Consolidate Shipments
System will select all shipments for a distribution center for a customer, by shipment start date, by bill to customer id, of by ship to location
Sort SO's by order number, ship location or bill to location
Summarize by Item number ordered
Remove or Add Orders as needed to fill trailer
View Number of Units, Number of Cartons, Cube and Weight
Print Consolidated Pick Tickets and Order Level Pick Tickets.
Scan Picked Cartons to record via wireless scanners
System fills detail data tabs to view by Item ordered, by Customer PO number and NMFC Class
Auto-Generate Bill of Lading
Bill of Lading

Create from Consolidated List or Enter Manually
Enter Ship From Warehouse to print correctly on BoL
Carrier Selection and Fill SCAC field
Enter Trailer Number, Ship/Track number, Seal Number, Pro Number and CAN Code
Handles Master BoL
Displays all Shipment/SO's on Trailer
Breaks Down BoL by Customer Order Number and by NMFC category
See Underlying BoL's if Master BoL
See All Cartons Shipped with Carton Id and/or Pallet Id
Print UCC-128 Labels
Create EDI 856 ASN's
Print VICS Standard BoL Forms
Tracks Setting of Appointment Date and Time, plus variance
Handles Entry of Direct Ocean Shipment via Additional Form – Vessel Name, Vessel Number and Destination Port
Create Invoices from BoL Record – EDI 810's and Factor Invoices if required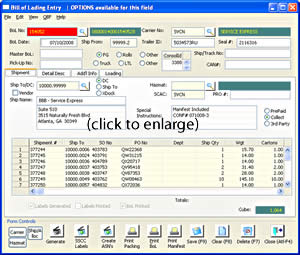 Next: Production Features ->
Please contact us for further information or a demo.
OpenInsight is a trademarked product of Revelation Software, Westwood, NJ
e-Insight ERP licensed from InsiTech Group LLC. Cheshire, CT.