Sales Orders
Sales Orders starts the process and is very easy and intuitive. The screens are logical in their flow for data entry and how to lookup and select options for various fields, as well as provide data validation so the data keyed is correct for your business.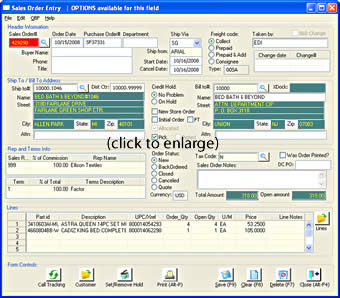 Customer specific part numbers and descriptions are provided via the parts table, as well as pricing defaults and price matrix selections based on quantities ordered. The Sales Order will go through a Credit Check for the customer upon saving the order. If the order exceeds the credit limits assigned in the Customer record, the current order and other open orders are placed on a credit hold status pending review by your credit manager.
Access to supporting tables and forms is a button click away so that Customer Service Reps can easily drill down to locate related customer and part information. This allows the reps to view history, see pricing and open sales orders from their desks and minimizes the need for hard copies in the file cabinet.
Key Features:
System Generated Unique Key – no duplicate numbers
Sales Order Date defaults to current day
Search Sales Orders to locate old Orders via Options Lookup Button
User Defined Ship Via Field
Choose which Warehouse to ship from
Choose from at east 4 defined Freight Codes, can be extended
Credit Checking with auto-hold if exceed credit limit set in Customer Table
Order Status – New/Backorder/Closed
Terms override on Sales Order basis – defaults to Customer assigned terms
Notes available at Sales Order and per Line basis
Terms Default from Customer Record
Sales Lines display customer part number if defined
Unit of Measure defaults from Part Master
Price defaults to Part Master List Price, will update to quantity break if there is a Customer Part Price list
Delivery and Scheduled dates allow for multiple lines
Shows Receipt and Shipment info for easy lookup for Customer Service
View Inventory, Parts Master, Customer Pricing, Part Drawing and MRP with simple button clicks in Lines
View Customer and Contact history from Sales header
View Customer Pricing
Lookup Options on fields linking to Customer controlled support tables – button or F12 key for quick access
Check Box to flag order change via EDI 860
Hide Fields
Reports – there are many standard reports that can also be modified and adjusted for each organization. There are also reports specific to historical information.
Setup – simple forms to enter data for supporting tables
Sales Person – in-house or reps, setup commission rates
Customer Pricing – set up pricing schedules for each customer by quantity breaks
Next: Purchase Orders ->
Please contact us for further information or a demo.
OpenInsight is a trademarked product of Revelation Software, Westwood, NJ
e-Insight ERP licensed from InsiTech Group LLC. Cheshire, CT.